Ebertfest to Host Online Showing of Mary Mazzio's, A Most Beautiful Thing, in collaboration with Champaign County's Alliance for Inclusion and Respect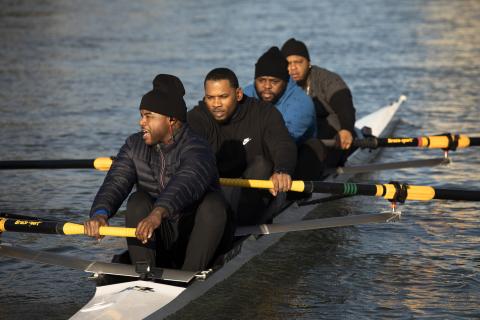 In collaboration with Champaign County's Alliance for Inclusion and Respect, Roger Ebert's Film Festival will host an online viewing of the movie, A Most Beautiful Thing. Narrated by Common, this documentary from 50 Eggs Films chronicles the 20 year reunion of the first African American high school rowing team in this country (made up of young men, many of whom were in rival gangs from the West Side of Chicago, coming together to row in the same boat). Before the Covid-19 Pandemic, this documentary was scheduled as part of the 2020 Ebertfest and the festival is grateful to Mary Mazzio and 50 Eggs Films for helping to bring this movie to our audience.
If you are a sponsor of the festival, or if you're an audience member and passholder who has been subscribed to our email lists, you will be sent details of how to register for this free Ebertfest event. We will give out as many live links as possible within a cap determined by the streaming platform . The live link to the movie will run from Monday 27th July to Wednesday 29th July. 
Ebertfest passholders may also Register Here to Watch the Movie Online until audience caps are reached. We will try to make sure those who held on to their passes for the postponed 2020 festival get priority.
The audience will also be able to submit questions to our filmmaker panel online here and a Q&A for the movie will be live streamed - with no audience caps - later in the week.
A Most Beautiful Thing is a movie that is perfect for the moment. The movie explores not only the safety the young men of this rowing team found on the water (where, as the captain reflected, "we were in a place where we could not hear the sound of sirens"), but the influence that the trauma of violence and cyclical poverty has in our society. The film examines how this rowing team were able to support each other in reimagining a different future for themselves and the crew's invitation to the Chicago Police Department to row with them during their 20 year reunion gives the film an uplifting message of how we can reach out to bridge societal divides.